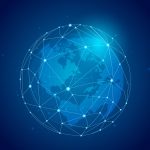 Alibaba ADRs & HK Shares
In September of 2014 the US listed ADRs went public.
The Alibaba ADR is a Variable Interest Entity (VIE) in the Cayman Islands.
In 2019 Alibaba also listed on the Hong Kong (HK) exchange (symbol HK:9988). An investor can track the HK listing in US dollars via the OTC pink sheets as symbol BABAF.
The NYSE traded ADR's and the HK Shares are fully fungible meaning the ADR's can be converted to HK shares or vice versa on an 8:1 basis (8 HK shares for every 1 ADR) at any time. General costs of the conversion depend on your broker.
Alibaba Business Highlights
In March of 2015 Alibaba reported fiscal year end (YE) revenue of US $12.3 billion and its market cap was approximately US $207 billion at the time.
Alibaba's most recent year to date (YTD) filing for 9 months of 2021 was revenue of US $102 billion and a it's current market cap as of 3/12/22 is US $247 billion.
It's most recent 9 month YTD revenue growth for 2021 was approximately 10% year over year.
Their current fastest growing business segments are direct sales (Sun Art, Tmall, & Freshhippo) at 21% year over year (yoy) growth, and this segment accounts for 28% of total revenue. The International segment grew at approximately 18% (yoy) and accounts for 7% of total revenue, and the cloud segment grew at 20% (yoy) and accounts for 8% of total revenue.
Alibaba's fiscal YE ends in March of each year. Their diluted eps for 2019 YE was $7.90, and 2020 YE was US $8.35/share. The average analyst estimates for YE 2021 eps is $6.21 per share, and the YE 2022 average estimate is $8.91 per share.
As a comparison:
| | | | |
| --- | --- | --- | --- |
| Company | 2021 eps est/share | 2022 eps est/share | Current market cap |
| Amazon | $64.81 (actual) | $48.83 | $1.48T |
| Walmart | $6.46 (actual) | $6.76 | $394B |
| Alibaba | $6.21 | $8.91 | $247B |
| JD.com | $-.36 | $2.01 | $86B |
Ecommerce companies by approximately twelve trailing months (TTM) revenue are Amazon at $469 billion, Walmart at $572 billion of which $73 billion is ecommerce, JD.com at $141 billion, and Alibaba at $131 billion. From an ecommerce only perspective Amazon is the largest with JD.com 2nd, and Alibaba 3rd.
Alibaba operates in approximately 200 countries around the world, and has more than 500 million people using its app.
Alibaba as of 2021 had 250,000 employees.
Alibaba has used PriceWaterhouseCoopers (PWC) as their independent auditor for their SEC posted financials.
Holding Foreign Companies Accountable Act
On December 2, 2021 the SEC issued amendments to finalize the interim final rules and established procedures.
The HFCAA final amendments require Commission-Identified Issuers to submit documentation to the SEC through the EDGAR system on or before its annual report due date. The documentation in the issuer's annual report must address:

That the issuer is not owned or controlled by a governmental entity in its public accounting firm's foreign jurisdiction,
That the registered public accounting firm has prepared an audit report for the issuer (accounting firm must be PCAOB approved),
The percentage of shares of the issuer owned by governmental entities in the foreign jurisdiction in which the issuer is incorporated or organized,
The governmental entities in the foreign jurisdiction with respect to that registered public accounting firm that have a controlling interest with respect to the issuer,
The name of each official of the Chinese Communist Party who is a member of the board of directors of the issuer or operating entity with respect to the issuer,
If the articles of incorporation of the issuer contains any charter of the Chinese Communist Party including text of such charter.

The SEC will identify a registrant or issuer pursuant to the HFCAA based on their filed annual report for fiscal years after December 18, 2020 on a rolling basis. The issuer has 15 days to provide evidence countering the claim with the SEC.
The SEC will publish the list on their website identifying Commission-Identified Issuers including the number of years the issuer has been published on the list along with other information.
After December 2020 if the SEC has conclusively identified an issuer has been non-compliant for three consecutive years, as soon as practical, it will impose a trading ban on the issuer for any national securities exchange or any other method that is within the SEC's jurisdiction including the "over-the-counter" market. An initial ban would be for three years.
If a trading banned issuer becomes compliant, and the SEC ends the initial trading ban on an issuer, and the issuer is determined to be out of compliance again the subsequent ban will be for a period of five years.
In order for an issuer to be in compliance it must use a Public Company Accounting Oversight Board (PCAOB) approved accounting firm that the PCAOB determines it can inspect.
China
In 2020 according as posted online the US was China's largest export country accounting for 18% of all exports. Others in order are as follows:

Hong Kong 11%,
Japan 5.6%,
Vietnam 4.5%,
South Korea 4.4%,
Germany 3.4%,
Netherlands 3.1%,
United Kingdom 2.9%,
India 2.6%,
Singapore 2.3%,
Malaysia 2.2%,
Australia 2.1%,
and the rest of the world.

China's top ten export countries account for over 57% of its export revenue.
China has the second largest GDP in the world (per wikipedia).
China's exports equated to about 18.5% of its GDP (2020).
China's largest imports are petroleum, integrated chips, iron ore, and gas as reported online.
China has the largest population in the world with 1.4 billion people or approximately 18% of the world's population. It's estimated population growth rate is .29% whereas the US's estimated population growth rate is .57% as an example. The world's second largest population is in India with 1.4 billion people and is growing at about 1% per year.
The current median age of China's population is 38-40 years old.
China ended its one child policy in 2016, and it's current policy is two children per family.
China has 18 cities with populations over 10 million people.
China has the most international borders of any country in the world.
The Economic Framework Cooperation Agreement between China and Taiwan signed in 2010 is still in effect.
Opinion
With so much controversy regarding China it is easy for the media to sensationalize stories that leave out data and facts in order to make their point.  The HFCAA has gained a lot of attention lately, since the first five SEC Commission-Identified Issuers were published on the SEC's website recently.  The HFCAA was started during the Trump administration for protection against data gathering by foreign governments of US information.  I have read opinions online where the HFCAA will protect against fraud.  In some ways it does try to accomplish this, but bad actors reporting fraudulent information in their company's financials will always be difficult to stop no matter the regulations in place in any country including the US.  
Knowing who the major shareholders are within any corporate issuer or entity is important and should be open for every investor big or small to discover.  The auditing rules and inspection of accounting firms by the PCAOB is important also, since it helps, but will never be full proof, since access can cause challenges.   
Since the HFCAA is just starting it looks like it won't be until 2024 before a company gets banned, so what will happen with reporting and government relations remains to be seen. For companies that currently use a PCAOB approved accounting firm it could be a simple process depending on CCP. The capital markets prefer US listed companies, so there is financial incentive for Chinese companies to be listed in the US, and having access to raise capital.
With many of China's largest companies being already dually listed on the Hong Kong exchange the transition for them from a US ADR to HK has been made easier. The bigger the HK exchange becomes the easier it becomes for China companies to gain access to capital markets. China would like for their exchanges to be on par with US exchanges, but in order for that to happen China has to realize that investor's want open disclosure. This is especially important for smaller companies and start ups.
China has said that it would like peaceful reunification with Taiwan in the past. With what we see today the reality of unification might mean something different in the future. Taiwan isn't Ukraine, and it's economy and products of which it exports are much more dominant than Ukraine. Much of the world today relies on many of Taiwan's products including China.
We live in California far away from China, yet my son has ordered stuff on Alibaba. He's purchased a few different items. It requires more delivery time and patience when ordering from Alibaba, but they all showed up. My son hasn't ever been to China and it's probably a good bet that the person who packed the product and mailed it to him hasn't been to California. Yet, I would suspect that both would like to see the other's country.
We are fortunate in the US as we have laws and a system of balance, so no one group can force choice upon the other. Even though there's differences with regards to our governmental leadership, US citizens have ways of expressing their opinions to initiate change, and protections in place that were agreed upon by a majority. This is why worldwide investors prefer capitalism over other types of government. A semblance of surety is always more comforting. It's certainly not perfect, but it seems to work over time.
For questions or more information contact us here.
Disclosure: I/we have positions in Alibaba stock mentioned. I wrote this article myself, and it expresses my own opinions. I am not receiving compensation for it. I have no business relationship with any company whose stock is mentioned in this article.