"How many millionaires do you know who have become wealthy by investing in savings accounts? I rest my case." — Robert G. Allen
The common thread I hear from people is "I need to save more." Saving and investing are two different thought processes. Saving more isn't the answer. Investing more is.
The reason saving and investing differ is mindset. When people save they associate a place where money is kept until they need it. In other words access to their money at any time.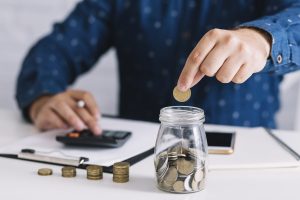 Investing differs from savings, since when investing the mindset is there is no access to the money until retirement. Depending on how you invest this may or may not be true, but the mindset of letting the money go and do it's thing until retirement is an important difference.
Investing, Saving, & Money
The ironic part about money is when you don't have access to it you often forget about it. Only when you have access to it do you gravitate to it. This is the rub with savings. It is often treated like an emergency account.
If you want to protect your future or change your life you need to invest. Years ago I was advised that Social Security may not exist when I got older. It's still here, but it gets smaller and further away every year. Trusting government officials with your future is not a good strategy.
Investing isn't hard. It requires a plan and consistency. Below are three stories of regular people who became wealthy using investing. Hopefully, they'll motivate you.
The stories have been shortened. You can read each of the full stories on Wikipedia.
ANNE SCHEIBER:
Anne Scheiber was an unknown, reclusive and extremely frugal New York woman who worked as an auditor for the United States Internal Revenue Service. She retired from the IRS in 1944. She never earned a salary of more than $4,000 per year, and although she was an exemplary worker, she never received a promotion. Scheiber's life became noteworthy for her accomplishment as an extremely skillful investor, and ultimately as a philanthropist in support of women's education.
Scheiber was born in Brooklyn, New York, and lived to the age of 101. She had nine siblings, and never married. Her father died when she was young, and she was raised by her mother, and thus began working in her teen years to earn money.
By making a series of wise financial investments, share purchases, and savings, Scheiber managed to accumulate a net worth of $22 million by the end of her life. Despite her extensive wealth, she had a reputation for frugality and eccentricity. After her death in 1995 at the age of 101, she donated her fortune to establishing scholarships for women at Yeshiva University's Stern College for Women, and the Albert Einstein College of Medicine, with the intention of enabling younger women to overcome the discrimination that she herself had endured during her working years. Her gift shocked and surprised many, not only for its size but that its source came from a donor who was unknown and lived in virtual obscurity.
GRACE GRONER
Groner was born in 1909 in a small Lake County, Illinois, farming community. She had a twin sister, Gladys. Upon their being orphaned at age 12, both sisters were taken in by George Anderson, one of the prominent members of the community. He paid for both of them to attend nearby Lake Forest College, from which they graduated in 1931. Grace Groner never married.
In 1935, Groner purchased three sixty dollar shares in Abbott Laboratories, where she also worked for 43 years. Over the years, her shares split many times, and she reinvested the dividends each time. She lived in a small cottage willed to her, bought clothes at rummage sales, and traveled extensively. She also gave money to the needy, but kept her name anonymous.
Over the years, Groner remained close to Lake Forest; she donated $180,000 to help start a scholarship fund and attended college football games. In 2008, she set up a foundation that would receive her estate upon her death. It was estimated that the foundation would earn $300,000 a year in interest from her estate.
On January 19, 2010, Groner died. After her death it was revealed that her estate totaled in excess of US$7 million and was left to a foundation she had established prior to her death. She expressed her desire that the income should be used to benefit students of Lake Forest College by funding independent study, internships, international study and service projects, as well as a possible grant to a student attending pharmacy school.
RONALD JAMES READ
Ronald Read was a janitor, a gas station attendant, and investor who later became a philanthropist. Read grew up in Dummerston, Vermont, in an impoverished farming household. He walked or hitchhiked 4 mi daily to his high school and was the first high school graduate in his family. He enlisted in the United States Army during World War II, serving in Italy as a military policeman. In 1945, Read returned to Brattleboro, Vermont, where he worked as a gas station attendant and mechanic for about 25 years. Read retired for one year and then took a part-time janitor job at J. C. Penney where he worked for 17 years until 1997.
Read died in 2014. He received media coverage in numerous newspapers and magazines after bequeathing US$1.2 million to Brooks Memorial Library and $4.8 million to Brattleboro Memorial Hospital. Read amassed a fortune of almost $8 million by investing.
For more information Contact Us here.